The Mosque-Cathedral
Mezquita-Catedral
RELIGIOUS BUILDING
8TH-18TH CENTURY
MEDIEVAL. MODERN ERA
SITUATION: C/TORRIJOS-CARDENAL HERRERO-MAGISTRAL GONZÁLEZ FRANCÉS-CORREGIDOR LUIS DE LA CERDA

The Mosque-Cathedral of Cordoba (World Heritage Site since 1984) is arguably the most significant monument in the whole of the western Moslem World and one of the most amazing buildings in the world in its own right. The complete evolution of the Omeyan style in Spain can be seen in its different sections, as well as the Gothic, Renaissance and Baroque styles of the Christian part.
The site which the Mosque-Cathedral occupies has been used for the worship of different divinities since ancient times. Under the rule of the Visigoths, the Basilica of San Vicente occupied this very site, and later, after the Moslems bought part of the plot of land, a primitive Mosque was built. The basilica was rectangular in shape, and for a while was shared by Christians and Moslems. As the Moslem population increased, the ruler Abderraman I acquired the whole site and demolished the basilica to make way for the first Alhama (main) Mosque in the city. Some of the original building materials from the Visigothic basilica can still be seen in the first section of the Mosque built by Abderraman I.
The great Mosque is made up of two distinct areas, the courtyard or sahn, with its porticos (the only part built by Abd al- Rahman III), where the minaret stands - nowadays, encased in the Renaissance tower - and the prayer hall, or haram. The area inside is made up of a forest of columns with a harmonious colour scheme of red and white arches. The five separate areas of the Mosque correspond to each of the five extensions carried out.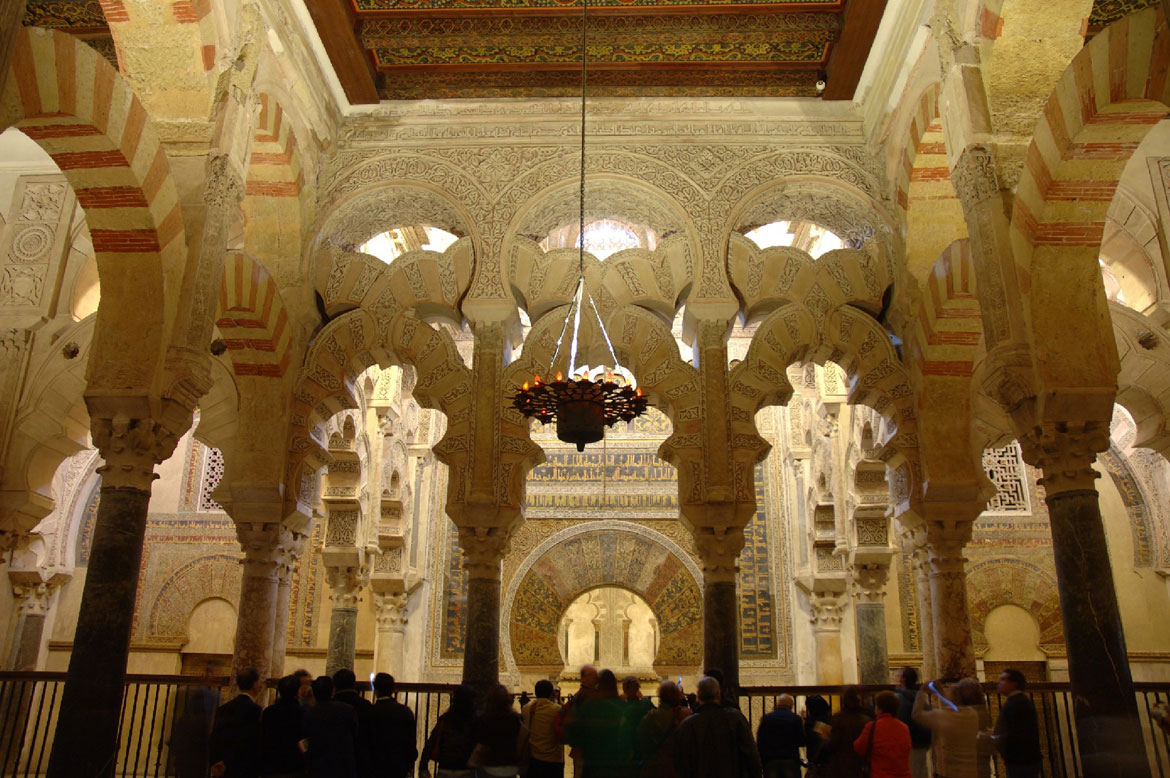 Visiting times: See Museums and Monuments Opening Times
The Soul of Cordoba (night-time visit): Click here
Reservations: Online and Mosque-Cathedral tickets office


Virtual tour to the Mosque-Cathedral of Cordoba: Click here