Triumphal statues
Triunfos de San Rafael
RELIGIOUS MONUMENTS
17TH/18TH CENTURY
MODERN ERA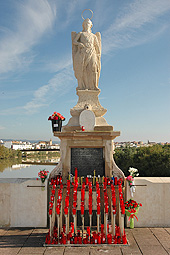 Many visitors to Cordoba are surprised to find, in a small square, or on top of a tower, a commemorative monument dedicated to the Archangel San Rafael. Their surprise is even greater when they learn just how many of these sculptures there are to be found all over the city. The triumphs, to give them their popular name, were a fervent expression of popular religious devotion. In years of great suffering or plagues, the people of Cordoba expressed their veneration of their Guardian Angel by building these triumphal statues all over the city.

Near the Puerta del Puente (Gateway to the Bridge) is the most elaborate of all. It was built in the 17th century by Miguel de Verdiguer. The ethereal column which supports the Archangel's statue stands atop a tower which rises out of a grotto, symbolising three worlds: the underworld, the earth and heaven.

In the Plaza de la Compañía there is another triumphal statue, looking over the square. It dates from 1736 and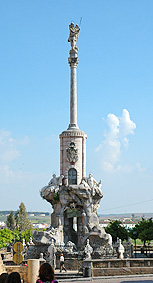 was built with alms donated by the parishioners.

On the Conde de Guadalhorce Roundabout, next to the former train station, there is another of these popular statues to San Rafael. It was originally situated in front of the Castle of the Christian Monarchs and dates from 1743.

In the Plaza de los Aguayos, another statue was built in 1783, and paid for by donations from the Aguayo noble family.

There are other statues in Plaza de San Hipólito, Puerta Nueva, Plaza de San Basilio and Plaza del Potro. The numerous triumphal statues of San Rafael, the city's patron and protector, look down for ever in stony silence from their columns and keep a watchful eye over the city and all who live in it.