Palace of Emperor Maximianus Herculeus
Palace of Emperor Maximianus Herculeus
Palacio del Emperador Maximiano Hercúleo
CIVIL CONSTRUCTION
3RD CENTURY A.D.
CLASSICAL-VISIGOTH ERA
SITUATION: CALLE VÍA AUGUSTA-ESTACIÓN RENFE.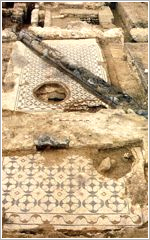 This ruined palace was recently unearthed in the Cercadilla archaeological site, and dates from the time of the Roman emperor Maximianus Herculeus, who visited Spain between the years 296 and 297 A.D.. It was built on top of a suburban villa from the high Imperial period, and in the time of the Visigoths it was converted into the basilica of the Martyr San Acisclo.

Visiting times: Closed.