Mudejar House
Casa Mudéjar
CIVIL CONSTRUCTION
15TH CENTURY
MEDIEVAL ERA
SITUATION: CALLE SAMUEL DE LOS SANTOS GENER, 9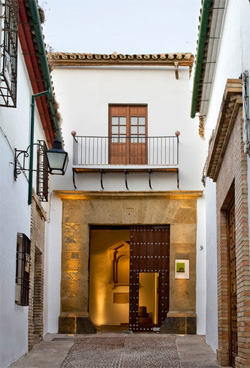 This magnificent example of a stately home from the late Middle Ages, with Mudejar influence in its construction and decorative work, was the first site of the city's Archaeological Museum.

The house stands at the end of street named after the archaeologist Samuel de los Santos, and the façade is entirely taken up by a gateway which leads to a covered, right-angled passageway. The main courtyard contains a central fountain and plants, and the front wall has a portico gallery in Nazari style (the Arab dynasty who ruled Granada) which then leads to a hall with a decorated ceiling.

After a painstaking process of rebuilding, the Casa Mudejar was reopened as the headquarters of the Casa Árabe (Arabic House) in September 2011.