Hotel Parador de Córdoba
Hotel Parador de Córdoba
Built in the ruins of the summer palace of Abderaman I, at the foot of the Cordoba mountain range and 4º C cooler than in the city, the Parador is an ideal place to discover the city.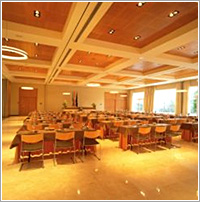 The rooms are well-lit and the building is surrounded by gardens and a refreshing swimming pool.
The gastronomy combines Arabic and Andalusian cuisines: "salmorejo cordobes" (cold vegetable soup), "gazpacho blanco" (cold almond soup) and steak in green sauce.
INFORMATION OF INTEREST
Facilities

Conference Room
Bar
Restaurant
Heating
Air Conditioning
Television
Canal Plus
Internet access available in communal areas
Satellite Dish
Safe
Mini-bar
The shop
Car park
Credit Cards.
Currency exchange
Garden
Children?s play area
Tennis court
Outdoor swimming pool
Agreement with Cordoba Golf course

Facilities for congresses
Three large halls: ?Salón Arruzafa? with capacity for up to 250 persons, ?Salón Manolete? with capacity for up to 45 and ?Salón Medina Azahara? with capacity for up to 550